Eye of the Tiger to the Beat of my Heart


Experimental
Music
Circuits
Hands-on experimentation & rapid prototyping of sound reactive or sound producing smart objects.

MY STUDY

In recognizing a play between the use of BPMs between music and our heart rates, I decided to conduct a performance experiment using Arduino programming to match the playback speed of a song to my pulse. The result was an interactive experimental speaker hooked up to a pulse sensor, that played "Eye of the Tiger" at varying playback speeds when the sensor read a pulse.

Below, I outline some of the steps and moments of the final informal performance of this smart object.





<<TWITCH LIVE PERFORMANCE OF: "EYE OF THE TIGER TO THE BEAT OF MY HEART">>




Pulse Sensor through a Processing Visualizer
Wave Shield Build out from Scratch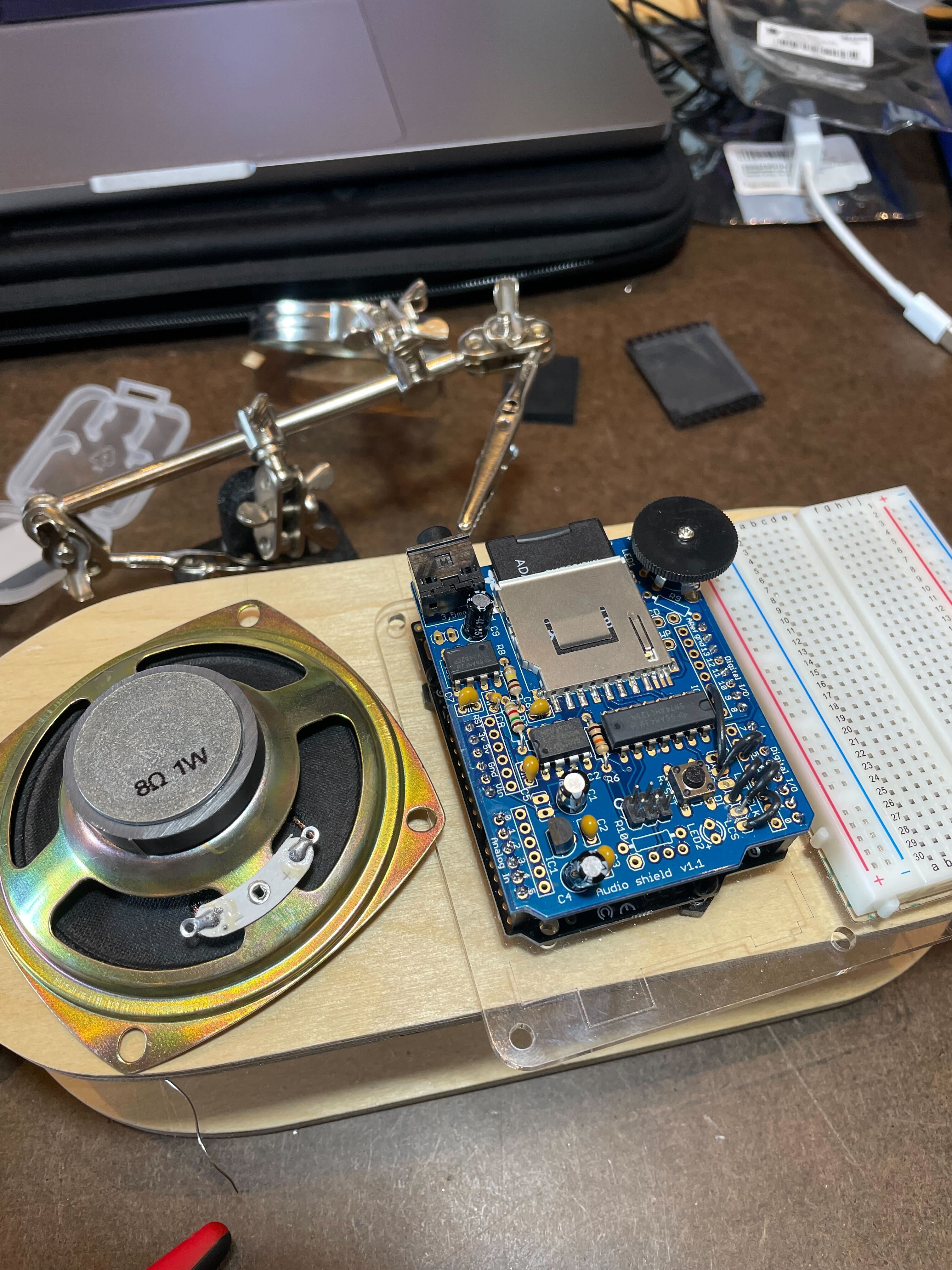 ---
THE FINAL PRODUCT

MATERIALS –

Wave Shield
Pulse Sensor
Arduino Metro
-
Plywood
Acrylic Semisphere
PROCESS –
After soldering the wave shield on its PCB board and pulse sensor together with the Arduino Metro, I began testing and troubleshooting the combination code of PulseSensorPlayground & dapHC_samplerate.
A couple steps to take note:
Go into the WaveHC.h file in the WaveHC Arduino Library and in a text editor change "DVOLUME" to 1

Rename all WAV files to 8 all caps characters.
Both the Pulse Sensor and the Wave Shield utilizes the same timer on the Arduino Metro, so we'd have to disable the interrupts in the Pulse Sensor Library code when splicing it into the dapHC_sample rate code.
Use the Serial Monitor or Serial Plotter to check if the pulse sensor is responding! https://youtube.com/shorts/hs8RAIXyfM0?feature=share
Change up the sensitivity of how the pulse impacts the WAV file by playing with the potval value (potval*10) and the new sample rate divide (newsamplerate /= 512;)
EXPERIMENTS:

---